Why is ISO Certification Necessary for Your Business? Here's the Answer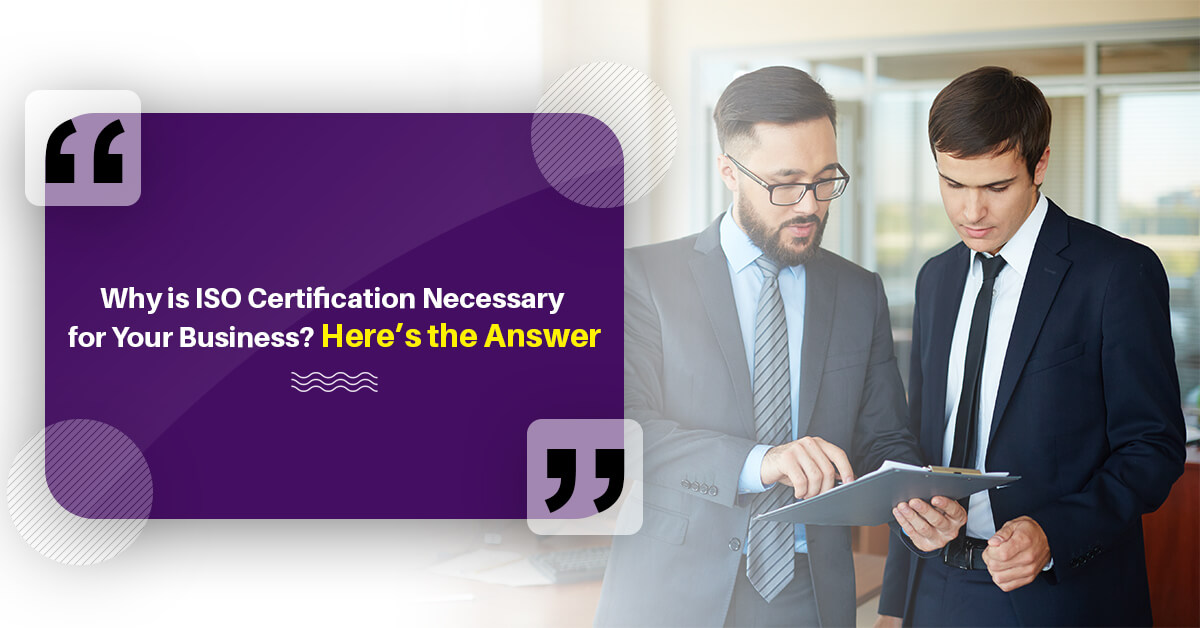 When you successfully operate a business, there are certain things that you need to achieve first to prove your credibility and earn more potential sales. ISO certification is way to do this. Any international certification acts as a formal declaration issued by an authorized body. It states that your company is competently meeting a set of requirements or guidelines, which can be related to quality, data privacy, environment safety, employee safety, assets security, etc. If you ask why ISO certification is necessary for a business, this is the first reason. It is exhibiting your company's credibility by adhering to some standard regulations provided by an independent international organization like ISO. However, there is more to it.
ISO certifications were designed to offer guidance and unified objectives to businesses in the key management aspects which help them ensure efficiency and optimize costs. Till now, ISO certifications have been adopted by millions of large and small businesses around the world for their willingness to stand out in the market and standardize their processes. Your business could be the next. By the time you read all the reasons for having an ISO certification, you will be convinced that you need one.
7 Reasons on Why ISO Certification is Necessary for Your Company
Standardization of Processes
An ISO standard promotes the standardization of processes or practices in business. You need to establish a unified management system that will ensure the use of standard processes and practices in your company. Standardization helps to:
• Simplify operations of the company, helping to reach the determined business objectives faster
• Ensure product consistency and safety
• Promote collaboration and compatibility with global partners
To be precise, standardization of processes helps companies to enjoy uncountable benefits in the operational, economical, and social sphere.
Win Happier Customers
Undeniably, any ISO certification can contribute to making your customers happy. This is perhaps a key reason for many businesses to get ISO certified. The ISO 9001 certification quality management system assures that your products/services are created by fulfilling every quality requirement of the customers and so meets up to their satisfaction.
Likewise, the ISO 27001 certification for information security management systems (ISMS) ensures customers that their vital personal data and financial credentials, which they shared with your company for completing the purchase, are secure. The ISO 14001 certification for environmental certification makes it clear that your products/services are produced through eco-friendly materials and sustainable operations so they are convinced that consumption of your products/services leaves no or minimal impacts on the environment.
Clearly, any of the certifications benefit your customers and enhance their satisfaction level. That is why you have potential to earn more sales and build a loyal customer base.
Boost Morale of Employees
When your company seeks to achieve a certification, you need to first make your staff aware of it and train them to help them clearly understand their roles in the certification journey. They should know the requirements of the achievable ISO standard and what they need to do meet them. Training should be also imparted to help them become adept with documentation processes and regular internal audits which are mandatory conditions of maintaining compliance for every ISO certification. When employees are given the responsibility for ISO compliance and are provided with necessary training, it automatically boosts their morale and keeps them focused on their job roles.
Consistency in Processes
With a certified management system, you are able to ensure consistency in the production as well as output. You are clear about the objectives of your processes and employees know well what to do. So, there are fewer chances of confusions, discrepancies, duplications, or errors in the processes. Consistency in processes is reflected in the quality of output. They better live up to the customer expectations and are delivered on time.
Higher Brand Recognition
Do not forget that a global-level certification can help to build the brand recognition of your business. It acts as a benchmark for your company's strong commitment to international quality or other regulations and so has the potential to set you apart. Thus, an ISO certification is supposed to be the marketing tool that can get you more clients, suppliers, partnerships, or contract offers from local as well as global agents.
Risk Reduction
One of the lesser-known benefits of ISO certifications is that they prepare your company in advance for any risks related to processes, assets, people and product/services. ISO-based management systems help to turn any of your risks (prevalent or potential) to opportunities. They aid you to assess risks, identify their consequences, manage them, or mitigate them with corrective measures. Therefore, your company is more proficient at handling risks and surviving out of them faster.
Long-term Sustainability
Sustainability is a critically important goal for businesses today and help to boost growth consistently in the long run. Achieving ISO standards aid companies to become more sustainable, with efficient processes, risks management, and consistency in performance. Achieving an ISO standard proves that your business is equipped to deal with the market, social, regulatory, and environmental challenges.
Key Takeaway!
These are the most persuasive reasons for getting ISO certifications. No matter what is the size, scale, or type of your business, you can benefit widely from a certification. From assuring process efficiency to improving output quality, gaining stakeholders' trust to building credibility internationally, managing risks to achieving sustainability, the list of benefits goes on.
By now, hopefully you know why an ISO certification is necessary for your company. There should be no second thoughts regarding it in your mind. Also, you should not be thinking that investing in an ISO certification is a general formality. Take time to choose the most relevant ISO standard/standards for your business, according to your defined goals. Next, contact a reliable certification consultancy to assist you.
We at, Compliancehelp Consulting LLC, can help you to pass through the stages of certification smoothly without requiring you to spend too much. We prepare you for every stage with premium consulting and help you to speed up and optimize your certification process. Feel free to get in touch!
Tags: