Quality Management System Vs Quality Assurance: Which One Do You Need?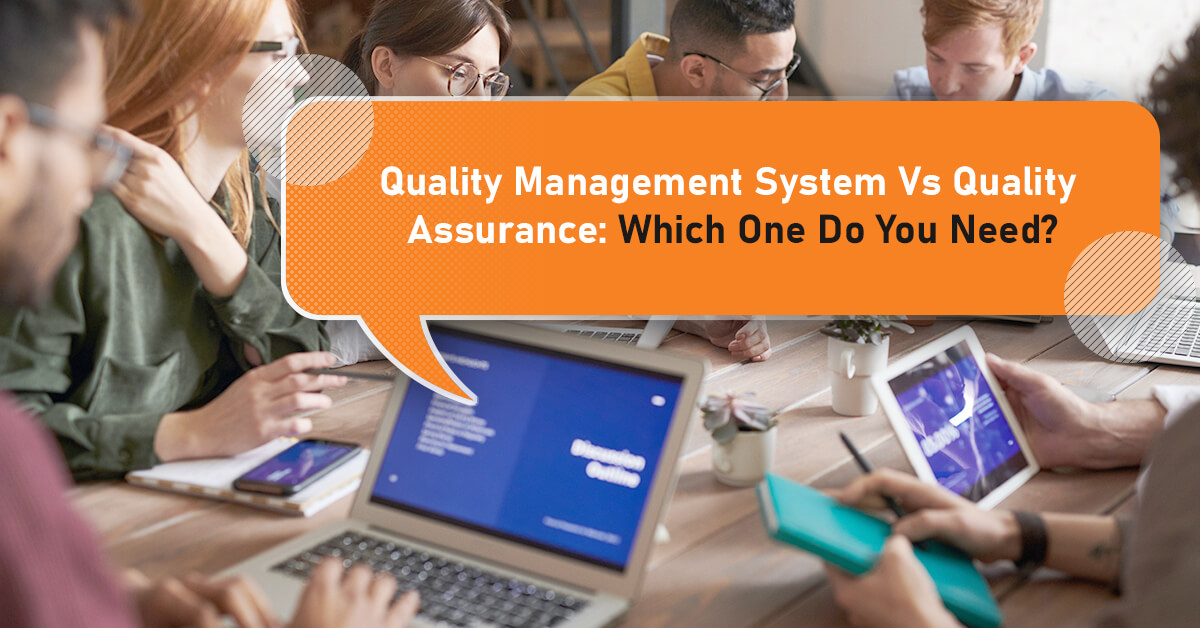 The difference between quality management and quality assurance is hard to identify! But, to say the least, both of them are necessary for an organization to deliver services or products that meet their customer expectations. Both quality assurance and quality management are integral strategies for businesses that help them to make their processes more efficient and error-free to ensure the final output is flawless. If you are confused about which strategy is necessary for your business, this blog is the right place to help you decide that. Here we have provided a clear picture of quality management system vs quality assurance for you. The differences between them are laid out here after analyzing the key business sectors.
Quality management system (QMS) and quality assurance (QA) both contribute a lot in maintaining the quality of products or services, but quality assurance is a part of the QMS, so they are not be used interchangeably in an organization.
A QMS is meant to successfully manage the processes in a business, right from the planning and production to delivery and quality assurance. Therefore, it can be said that quality assurance is a significant part of the business operations, whereas the QMS is a comprehensive and standalone tool implemented in an organization to ensure quality.
Though the key purpose of both QMS and QA are the same, there are many practical differences in their functions. Here are some key points mentioned which will help you decide the approach necessary in your business to fulfill your quality commitment.
Quality Management System Vs Quality Assurance: A Comparative Study
Definition
Quality assurance or QA is the way of preventing defects or inconsistencies in the manufactured items or processed services of a business to avoid dissatisfied customers.
Quality management system or QMS is a much wider concept than QA and covers more areas of a business. It is a set of specific processes/practices implemented company-wide and focuses on fulfilling the realistic expectations of customers in products or services.
Approach
A QMS includes the set of repetitive processes that are essential for a business to meet compliance with quality management standards like ISO 9001. A QMS typically administers and assesses the following elements in a business:
• Inputs or resources– The QMS assesses and ensures that all inputs procured, and resources used in manufacturing or delivering a product or service are of standard quality.
• Production activities– The QMS helps a business to supervise all production activities, including all interrelated activities and ensure that they all contribute to the production of the desired output. In other words, it ensures that all activities, subordinate processes, inputs, and tasks of employees are properly executed to produce the specific output.
• Output– The QMS includes an assessment process following the production that ensures the expected quality level is met in the output and it will be satisfactory to the customers.
On the other hand, QA is an ongoing process involving four key steps, Plan-Do-Check-Act. The PDCA cycle approach of QA helps organizations to evaluate, rectify and improve their output at periodic intervals. Here are the steps of QA explained.
• Plan– In this step, the organization needs to decide the procedures or actions needed to check their inputs, resources, and intermediate processes to ensure quality adherence in their output.
• Do– At this stage, an organization needs to materialize the actions or procedures planned earlier. The employees need to apply everything agreed in the previous stage after acquiring training and management support.
• Check– It is time for the organization's management to check whether the actions are implemented as planned and predetermined objectives regarding quality are actually achieved. They monitor and review the quality assessment procedures to find any inadequacies anywhere and identify actions that can be improved. The management team then should suggest a plan of measures to resolve the inadequacies and make the improvements.
• Act– The employees then act on the advice of the management team to implement the measures needed to achieve the improvements in their assessment processes.
The PDCA cycle of QA helps organizations to ensure that products/services are developed and distributed via the right procedures. In short, it eliminates the chances of errors and quality issues in the output.
Applications
QMS is a generic management system that is universally applicable to businesses of all types and sizes. It is implemented based on a standard, like ISO 9001 that is internationally-accepted. Specific industries like medical devices, aerospace, or IT service have their specific QMS standards like ISO 13485, AS9100 and ISO 20000. However, the purpose is the same for all. They define a set of requirements for a QMS that organizations need to abide by in their design, development, manufacturing, and distribution processes. For effective implementation of the QMS, an organization needs to properly document its procedures and make the documents accessible to every member of the organization. Documentation is a key requisite for the QMS to ensure uniformity in procedures as mentioned by the standard and also to make employees accountable for their tasks.
QA is a lower-level process that helps in preventing any inconsistency in processes and defects in the final output. It is also applicable to all types of businesses, but especially the ones which have a tangible output to offer or use a lot of tangible inputs in delivering certain services. It is a proactive approach that helps organizations to identify faults in the end products or the inputs and processes used in producing them.
Final Takeaway- Do you need QA or a QMS?
QA is the strategy of prevention of any defects or in the end product whereas a QMS is a formalized system that helps organizations to meet certain requirements in the products. Both are needed to provide customers with quality products and make them happier. A QA approach is unique to every organization, depending on their and specific processes, inputs used, and final products or services. A QMS is a generic and comprehensive system, which involves adhering to the requirements specified by the ISO 9001 standard or any other quality management standard.
However, in the battle of quality management system vs quality assurance, it is always recommended to choose the former because QA is already an integral part of a QMS, so to implement a QMS, you need to have proper quality assurance practices in place. The only difference is that you need to further focus on documenting the practices, creating a policy, training your employees, and conducting periodic audits to ensure thatcompliance with ISO 9001 standard is met. Moreover, having a QMS validated with the ISO 9001 standard gets international recognition for your organization. That helps in acquiring more customers and earning international business contracts.
At Compliancehelp Consulting LLC, we are a team of certification experts who assist businesses in getting their QMS implemented and certified with a relevant ISO standard. To get our consultancy for certification, feel free to contact.