Learn the Importance of the ISO Standards for the Hospitality Industry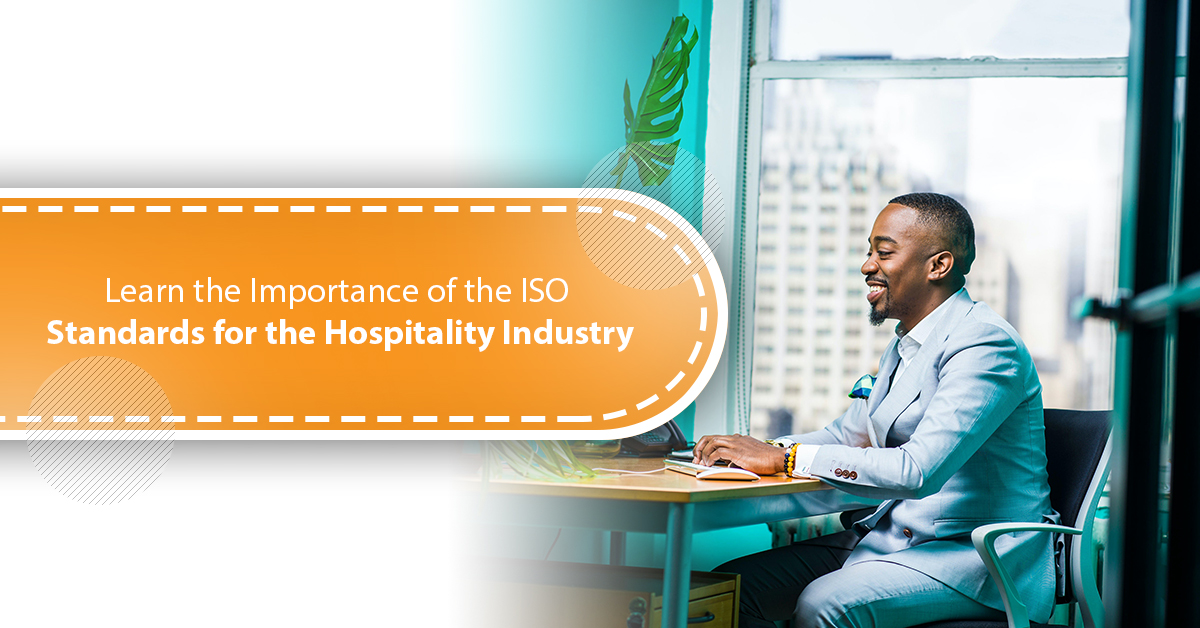 The hospitality industry is one of the fastest-growing industries in the world which comprise hotels, tour and travel agencies, restaurants, tourist attractions, and amusement centers. They need to make sure their services or products add value to the experience of the customers i.e., tourists. Quality services help them to thrive consistently in the highly competitive hospitality industry. Hospitality businesses also referred to as tourism businesses can improve the quality of their services or products with time and attain a profitable position in the industry with the ISO standard certifications. This blog will explain the importance of the ISO standards for hospitality industry. Achieving the standards also helps them to meet the legal compliance requirements and other tourism-related regulations easily. Thus, they can provide high-quality services meeting both the customer requirements and regulatory requirements.
To learn the importance of the ISO certifications in hospitality businesses, you need to first understand the challenges undermining the potential of the industry.
Key Challenges Faced by Businesses within the Hospitality Sector
The hospitality sector is no doubt the most affluent sector in the world, but it is also more volatile today because of the situation caused by the COVID-19 pandemic. With absolute restrictions put on travelling worldwide, the hotels, tour agencies, and every related business were heavily impacted. Even now that the pandemic situation is gradually fading and people are going back to normalcy, things are never going to be the same in the hospitality industry. From quarantine practices, maintaining social distance at public places, to heavy sanitization and compulsory health checking of tourists, there are many new regulations imposed on the hospitality businesses. This apparently means hotels, travel companies, and local tourism businesses need to comply with these new regulations along with pre-existing regulations which are related to environmental safety and sustainability, energy management, quality assurance, information privacy, and occupational health and safety.
So, these are the key challenges that hospitality businesses need to address apart from overcoming the challenge of a pandemic.
• Sustainable Practices: Tourism is about exploring the world's most beautiful and histroric places. It is therefore supremely important for both the parties (businesses and tourists) to ensure the protection of natural environment, flora and fauna, resources, heritage and culture of the place. Responsible tourists often seek companies that practice and promote eco-friendly and sustainable practices.
• Security and Privacy: The travel companies must be fully responsible for the security of tourists and help them enjoy their trip at ease. This also means the hotels, transportation companies, tour guides, etc. must be able to secure the sensitive customer information from any breaches or misuses.
• New Technologies: Being a part of the global industry, tourism businesses need to cope with the latest technologies including online booking, payments and mobile app facilities. Even the hotels are required to implement technologies and get equipped with facilities like smart appliances and Wi-Fi to provide convenience to the customers.
Being faced with all these challenges, hospitality businesses can be benefitted hugely from well-known certifications like ISO 9001, ISO 14001, ISO 45001 and ISO 27001. The next section briefly points out the key benefits that your tourism business can get by achieving certifications.
4 Assured Benefits of the ISO Certifications for Hospitality Businesses
Best Practices for Tourist Management
Being certified with key ISO standards that set specific regulations for management areas would help you to better manage your tourists. You are required to follow best practices in every area of service that results in the sustainability of your business. Certifications also demonstrate credibility and inspire trust in the customers. When you can give better services to tourists, troubleshoot their problems, and provide them all-around convenience with best management practices, they turn into your loyal customers. They would even refer your business name to others. Hence, your business thrives more in future.
Improvement in Productivity
As ISO standards lead to the implementation of feasible management systems, it results in enhancing the efficiency of daily processes. With management systems, you are empowered to review operations, identify non-conformances or vulnerabilities, and improve your operating processes. Thus, with the implementation of robust management systems at the heart of your operations, you can enhance overall efficiency and provide better-quality services in less time. Thus, it results in higher productivity of your business and increase in earnings.
Increase in the Value of the Properties
The tourism industry relies on real-estate properties including hotels and lodges, homestays, and other public amenities including vehicles, markets, parks, and amusement centers. The better these are managed with careful asset management, the brighter the future of tourism businesses. Thus, with proper planning and financial investment, the properties used for tourism services should be well maintained. ISO standards for assessment management and risk management can help you in optimizing the value of your property assets. Also, when you can maintain your property in a fine state, it leaves a positive impression on the tourists and enhances their experience during the stay.
Improved Reputation and Competitive Advantage
The standard certifications by ISO are globally recognized and considered yardsticks of performance for businesses. Therefore, when your tourism company achieves one or more of these certifications, it demonstrates your supreme commitment to excel in all spheres of the business. This builds the brand name of your company in the industry and gives marketability advantages. When customers see that your company holds certifications of ISO, they can easily trust your operations and services. Thus, it leads to increase in customer and boosts your revenue growth.
Final Words
While the tourism sector is widely affected in the past two years due to the COVID pandemic, companies need to come up with surefire strategies to spring back to the business with the same vitality and enhanced capabilities. Therefore, the importance of the ISO standards for hospitality industry is undeniable. Besides, ensuring that their services take care of the health and safety of customers, the standards also show their consistent commitment to improving efficiency of their operations and providing a remarkable customer experience. For instance, quality certifications demonstrate that a company is well capable of handling customer complaints, providing tailored services, and ensuring higher customer satisfaction. All these facts make ISO standards a source of revenue growth for the hospitality businesses.
If your business is a part of the hospitality industry and you have not achieved any certifications yet, get in touch with Compliancehelp Consulting LLC. We can perform gap analysis and internal audits of your business to help you get accredited with the relevant certifications. As a result, you can meet customer requirements, minimize risks, and boost the efficiency of your operations to achieve success in the industry.