Importance of Quality Standards for Manufacturing Industry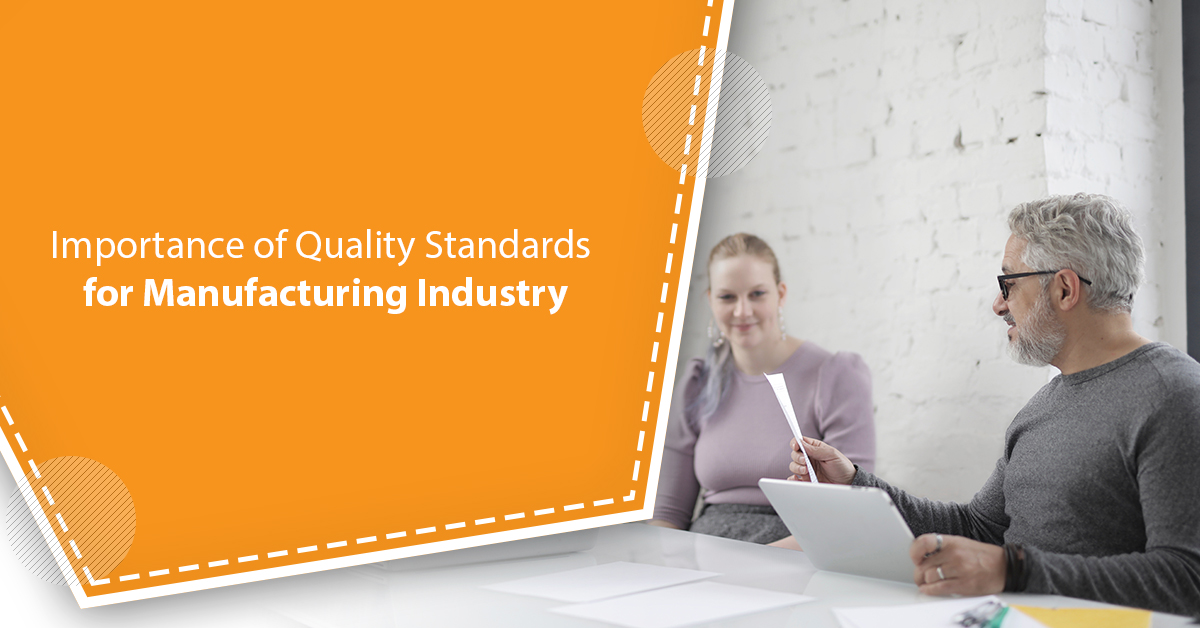 Every sector needs to put supreme focus on quality management. It is a key way to establish strong trust in their customers and have their revenues growing consistently.
The manufacturing sector is no exception to this. In fact, quality control or management must be emphasized first by all manufacturers because their products are complex, made of various inputs or raw materials, and go through numerous processes. This is why they need the best quality management program to ensure all their inputs and processes are up to the mark for producing quality finished products. One of the important quality standards for manufacturing industry is ISO 9001. There are many other industry-specific standards such as AS9100 for aerospace, ISO 13485 for medical devices manufacturing, etc. They are essential to prove the manufacturer's credibility. A manufacturer that adopts the best practices and meets the regulations of a quality standard gets a direct competitive advantage over other manufacturers.
5 Benefits of Complying with Quality Standards for Manufacturing Industry
Operational Excellence
In order to achieve compliance with a recognized quality standard, you need to routinely assess your manufacturing processes, identify issues and costly mistakes, and find ways to immediately resolve them. This can cause an increase in the efficiency of your processes that result in considerable savings of money. Costs are saved because there is a significant reduction of errors in the processes, reworks, wastage of resources, and number of defective products. Needless to say, this is one of the biggest internal advantages that your manufacturing business can gradually achieve while maintaining compliance with a quality standard.
Proper Documentation Control
A quality standard needs you to maintain proper documentation of all your processes including quality assurance methods. This means that you need to accurately recognize all your processes and quality practices and elaborate them in well-formatted documents. When everything is documented, it creates greater accountability in the employees. Since everything is well instructed to them in documents, they are less likely to make any mistakes and also ensure that all processes and practices are effectively implemented.
Continuous Improvement
A quality standard requires a business to continually improve and innovate ways to exceed the quality expectations of the customers, resulting in you continually assessing your business processes and discovering new scopes to reduce the use of resources, eliminate redundant tasks, increase productivity and modify the products. Therefore, if your company is certified with a quality standard, it naturally embeds a culture of continual improvement where errors reduce over time, costs minimize, and quality enhances ensuring higher customer satisfaction.
Better Prices for Customers
Any standard for quality can help your business to keep the prices of your products lower for the customers. With quality assurance practices at every stage of production, chances of errors or reworks reduce significantly which cuts down your manufacturing costs. Therefore, you can offer your products at lower prices. Since you are certified with a recognized standard, it will never make customers think that you are offering low-quality or substandard products at such fair prices. Thus, when you meet a quality standard and keep prices low, customers are highly satisfied. They tend to come back to make repeat purchases, thereby giving your business a steady income flow.
Opportunity to Scale
With a quality standard, your manufacturing company gains reputation and can even get international recognition. It demonstrates your excellence in quality management and hence many other organizations would be interested in partnering or trading with your business. You can get numerous opportunities from suppliers, investors, distributors, and traders from local regions as well as global markets. Therefore, it gives a boost to your business potential and enables you to expand internationally, scale-up, and grow.
Key Takeaway
Customers are aware of the quality standards and stringent requirements specified by them. Therefore, when they know that your manufacturing company is certified with a standard, they are confident about the quality of your products. Many businesses use this approach acquire a huge customer base and grow a business. Hence, one can never ignore the significance of quality standards for manufacturing industry.
If you own a manufacturing business and still have not got any quality certification, it is imperative you make the decision. Get consultation services and guidance on the certification procedure from the dedicated ISO consultants at Compliancehelp Consulting LLC. Having in-depth experience in all kinds of certifications, we can assist you to fully comply with the relevant quality standard and increase the value of your manufacturing business. Feel free to contact us!