How Important is ISO Certification for Small Business Owners?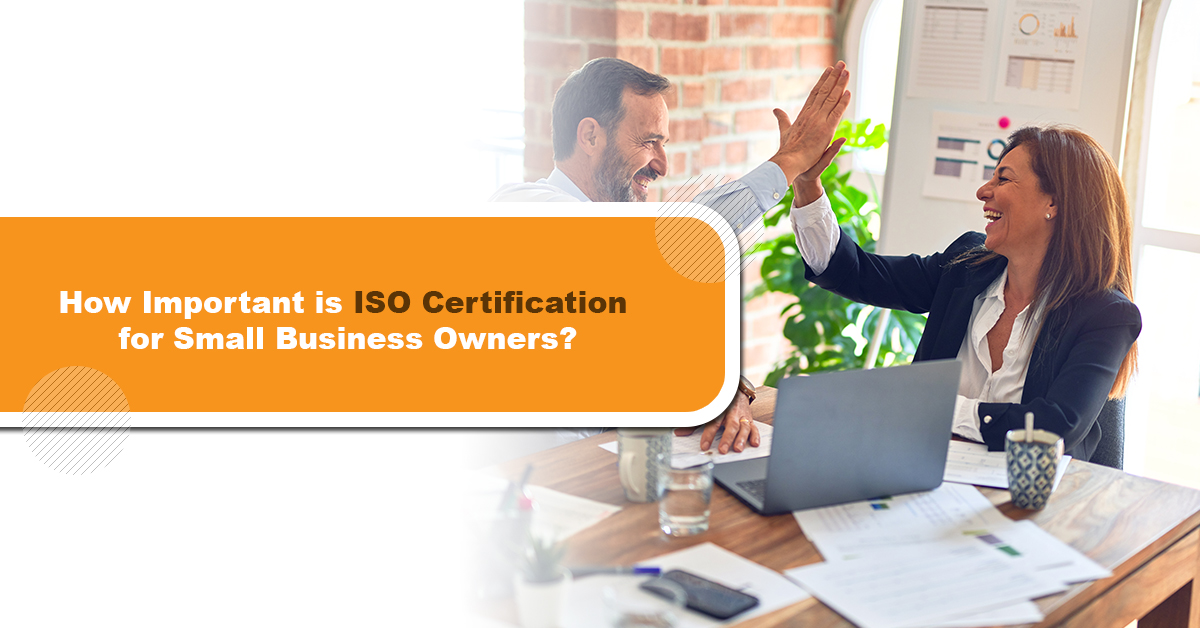 The key to staying in an increasingly ever competitive business market is to keep a strong and loyal customer base. Today, customers are satisfied not just by receiving quality products, but most are concerned buyers who are aware of the environmental situation, energy consumption, and resource misuse. On the other hand, employee retention is key by skeeping a safe work atmosphere and a strong information security system determine the long-term success of the business. All of these make a cohesive shield t provide the required sustainability every business organization needs. Especially, small-scale enterprises are vulnerable to steep competition on a regular basis. They need strategic tools to increase their competitive advantage to stay tall in the competition.
ISO certification for small businesses is the most valued strategic device to compete against other brands as well as to increase business continuity. For each of the significant business aspects, there is a particular ISO standard. A small business owner requires the assistance of an ISO accreditation for the following reasons –
4 Major ISO standards for Small Business Owners
1. ISO 9001 – It stands for the quality management system, which is crucial to determine customer loyalty. The USP of a small company should be the uniqueness and quality of the product/service. To maintain quality and meet the benchmark, the ISO 9001 certification helps to organize procedures, find gaps, make improvements, and allocate resources effectively. This ensures that a company is aware of the quality expectation of its customers and offers complete dedication with full compliance to accomplish them.
2. ISO 14001 – The increasing concern for environmental management and sustainability forces companies regardless of size to take necessary measures. Waste management, control of resources, and energy consumption are required to be strictly controlled by small-size companies for cost-efficiency.The ISO 14001 stands for the international environmental management system. The certification enables companies to take the right courses of action to design operational strategies to minimize their carbon footprint.
3. ISO 45001 – Occupational health and safety management (OH&S) is an employer's duty to keep employee morale high. The ISO 45001 stands for the international OH&S. The certification enables companies to take prompt action to safeguard their employee resources. The standard is a significant strategic tool for optimizing employee retention as well.
4. ISO 27001 – Information security is a rather neglected field in business. It holds immense importance as data preservation is a part of business sustainability. Intellectual properties are vulnerable to third-party infringement, online data corruption and cyber-attacks. A strong surveillance system is mandated by the ISO 27001, which enables companies to secure their data without any hassle. For small companies, the consequence of data manipulation can be deadly. Many small-size industries have faced backlash, financial penalties, and faced failures just for ignoring information security management.
Besides these fundamental features, ISO certifications help small companies in many ways, which include:
1. Increase competitive advantages
Havingan ISO certification means establishing benchmark productivity and operations standards. In a competitive market, where every company is trying its best to beat others, ISO accreditations are indeed an advantage. It helps to bring global acknowledgment, which eventually increases market exposure. A small company gets plenty of opportunities to turn itself from small to medium by acquiring relevant ISO standards.
2. Retain customers
Retaining existing customers is important for business continuity. Consistent quality and good performance for environmental sustainability exhibit a company's level of concern for community welfare. It shows value to the existing customers, which later turns them into a loyal segment. Without a customer retention policy, a small company can never exceed its expected profit margin and compete in the long run.
3. Manage cost-effective production
ISO certifications, especially the ISO 9001 and the ISO 14001 that promote the importance of having a cost-effective operating system. By reducing waste production and controlling resource and energy consumption, small companies can save a lot of money. Moreover, quality assurance programs educate companies about the requirement of the right type and number of resources needed for standard productivity.
4. Make solid contingency plans
A small company must have a solid contingency fund and plan. ISO certifications help to accomplish that without any hassle. By promoting cost-effective production and enforcing that into the system, a small company gets the opportunity and the budget to make a contingency budget, which saves it from any unexpected and unavoidable situation in the future.
ISO certification for small businesses is therefore a dire necessity. From fulfilling customer needs to securing data and workforce, ISO accreditations are comprehensive solutions for small companies. They help to achieve long-term success without compromising on the profit margin.
If you want to achieve the ISO certifications in the most organized way, please get in touch with ComplianceHelp Consulting LLC. It is a certified service provider of consultancy that specializes in offering bespoke gap-filling solution models.