Customer Satisfaction: The Key Goal of Quality Management in Business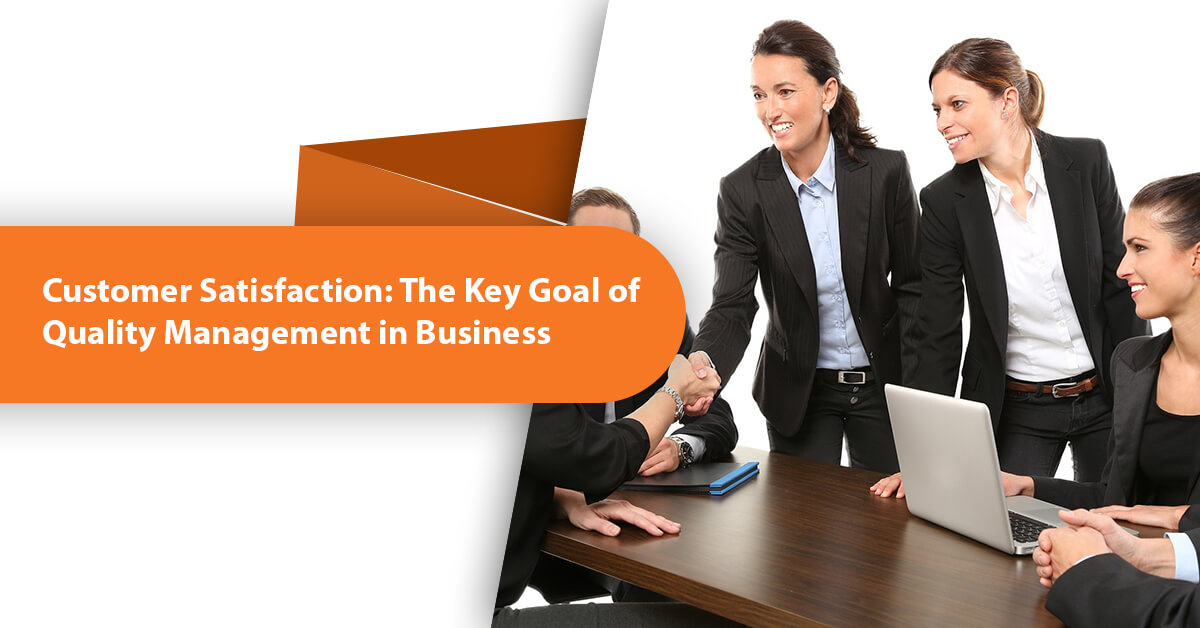 When it comes to implementing a Quality Management System (QMS), a business should first confirm the key goal of its quality management. If you still do not have a clear idea of what is the goal of quality management, they should take hints from the most successful businesses around. It is always "Customer Satisfaction" for them.
While there are dozens of other factors determining the success or failure of a business, customer satisfaction is always top of the list. It is always crucial to track what customers feel or experience after consuming your product or service. When you know what customers like and dislike about your services, products, or processes, you are able to work on enhancing them. This way, you can earn many repeat buyers and eventually turn them into loyal ambassadors of your brand.
There are many reasons to explain why customer satisfaction must be the key priority of your business's QMS.
• Loyal customers are worthy to keep because acquiring a new customer is 6-7 times more costly than retaining a current one with incentives/offers/loyal cards
• By repetitively buying and sharing their valuable feedback, they actually teach you on how to improve your product, service or process
• Better customer satisfaction reflects directly in revenue or turnover due to increased sales
• More number of happier and satisfied customers give you a competitive advantage in the market. When you promote their positive feedback or talk about your amazing customer service in social media profiles, you can even make some customers switch from other brands to you.
While we have stated the reasons for prioritizing customer satisfaction in your quality management, we should also make you aware of the methods that help in achieving higher customer satisfaction.
4 Key Customer Satisfaction Assurance Methods
These are the key methods that a standard QMS offers to help businesses get a hold over their customer experience and ensure higher satisfaction.
Face-to-face Interactions
Even though it seems the toughest part of doing a business, you should never miss out any opportunity for face-to-face interaction with the customers. If that is not possible, a telephonic interaction must be initiated once in the process of purchase.
Most of the times customers give your sales executive or customer care executive a nerve-racking experience with their queries and presumptions about your services, products or brand. However, it is still important to directly interact with them because, in that way, they can relate to and trust your brand more. When you communicate with them in person rather than on mail or chat support, they remain calm and ask whatever they need in a generous way. Real customer interactions eventually strengthen your relationship with customers and win their loyalty when you actually resolve an issue or answer their concerns.
Prompt Responses to Customer Complaints
It is hard for the customers to wait longer for a response who have faced some problem during the purchase or have issues with the quality of your product or services. It is truly not always possible for your customer service executives to get back to them immediately after registering a complaint. You should therefore respond to them immediately with a small message through an email, SMS or call just to inform that you have received their complaint and will get back to them at the earliest possible.
A minimal prompt response to an annoyed or disappointed customer is necessary to prevent them from defaming your brand on popular social media platforms. A quick response also let the customers know that you are working on their issue, even if you lack any executive or resolution right at that time.
Customer-centric and Friendly Approach of Doing Business
It is critically important for businesses to have an amiable and polite approach towards the customers regardless they buy or do not buy from them. There are many instances when a customer would enquire about everything, go through halfway to purchase your products, or get your services but in the end, will change their mind. Instructing your sales executives to be still humble and courteous is necessary to present your brand always as an approachable one.
Well-defined Customer Service Policy
This may not be included in your business policy, but it is mandatory to have if you want to keep customers at the forefront. A well-formulated customer service policy helps in communicating your efforts and promises to the customers. It also saves a lot of time by letting sales and customer care executives know how to deal with every purchase order, payment, billing, or technical queries and customers' grievances.
A policy is also a clear statement to the customers that your business is at its service when in need. They should be told how to smoothly complete a purchase and transaction, and whom or how to reach if they are not satisfied with any product/service.
Final Takeaway!
Satisfied customers are the biggest advertisers of your business. They promote your products or services or anything they like about your brand to others through word-of-mouth marketing. This eventually makes your business more reliable and convincing to many new customers. This assures a consistent flow of customers and assurance of sales for your business. Hope this blog answers what is the key goal of quality management in your business as well as every other business. However, what is also important is to establish your QMS focusing on customer satisfaction.
If you are clueless about how to get started, get ISO 9001 implemented for your quality management. It is the world's top standard for a QMS and incorporates customer focus as a key requirement for businesses. Adhering to the standard's requirements while implementing your QMS would hence help you to put a strong emphasis on customer satisfaction.
At Compliancehelp Consulting LLC, we are a team of expert quality assurance consultants assisting businesses with ISO 9001 standard implementation. We can guide you throughout the implementation process assuring your QMS is compliant with the ISO 9001 standard. To get started, feel free to contact us.
Existen interminables debates sobre si el medicamento para la caída del cabello cozaar es seguro o no. En realidad, mi marido, que lo utiliza desde hace un año, no parece tener ningún efecto secundario. Dice que no nota en