5 Benefits Organizations in the IT Sector Can Get from the ISO 20000 Certification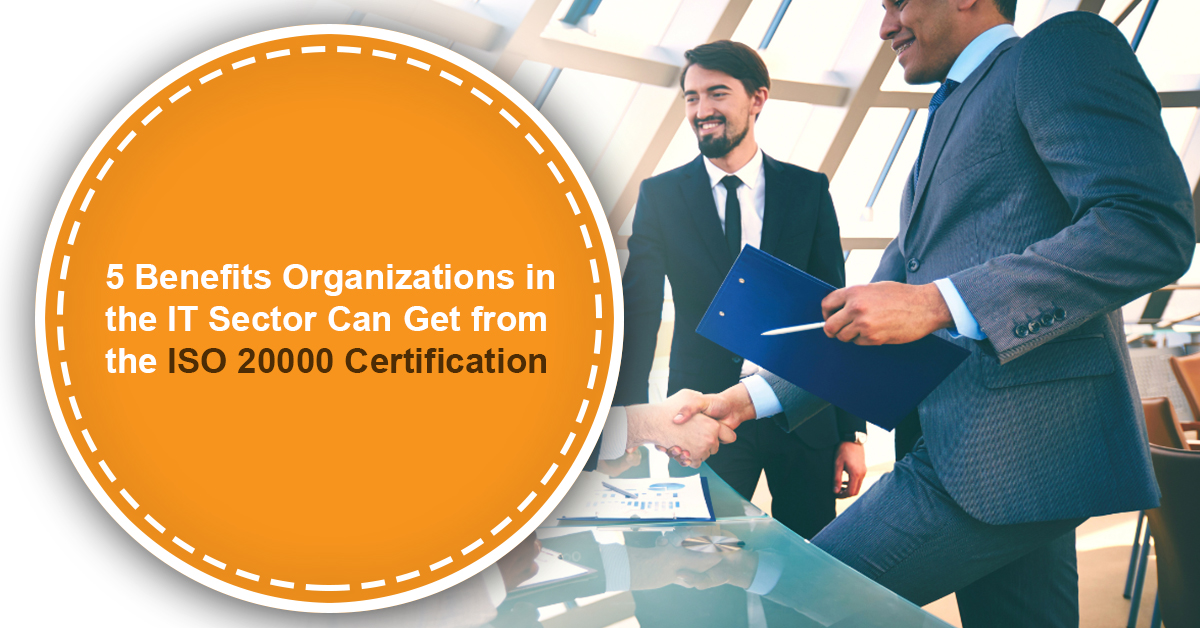 Organizations in the IT industry need robust service management systems to deliver their managed services timely and effectively. IT, or Information Technology, is no doubt the fastest growing segment of an economy. As the number of IT service organizations or firms is increasing, competition in the sector is rising. This makes it crucial for an organization to have a strong IT service management system (ITSMS) with which it can continuously improve its services, increase client satisfaction, and captivate the market.
ISO 20000 is the international certification specifically designed for ITSMS. It defines best practices for IT service management that help organizations to ensure higher quality of services. Thus, benefits of the ISO 20000 certification are huge! It primarily helps to demonstrate the reliability of your services and gives your company a competitive edge. However, there are more benefits of the certification beyond these.
This blog lets you know more about the true benefits of getting this certification for your IT service organization. It explains what you will guarantee for your organization after getting accredited with the ITSMS standard. Take a look.
Key Benefits of ISO 20000 that Explain Why Your IT Organization Must Achieve It
If you are wondering whether the ISO certification of ITSMS is essential for your business, these potential benefits will explain why.
Enhanced Processes and Higher Productivity
A major benefit of establishing a certified ITSMS is the increased efficiency of processes which inevitably leads to higher productivity of your business. When a proper management system is in place, everyone in the organization, from senior managers to lower-level staff is clearly designated with appropriate tasks. This ensures that everyone is aligned with the right processes and there are no redundancies or duplication of tasks. As everyone knows their tasks, they perform dedicatedly. So, the services are delivered efficiently on time which eventually raises the overall productivity of your IT organization.
Build a Happy Clientele
To make customers happy and satisfied, provide them with quality services that meet their every expectation. The implementation of an ISO-certified ITSMS makes it easy for you to acquire customers as well as retain them.
Since there are lots of competitive service providers, sometimes it is hard to keep your customers. However, the certification makes things easy. It demonstrates that your organization has adopted the best practices for IT service management. This makes your services more convincing and reliable to the customers. Also, the certification needs you to focus on customer complaints management to ensure that no grievances are left unresolved.
Persistent Improvement of Performance
This certification for ITSMS helps the organizations or IT service providers to benchmark their performance i.e., how efficiently they deliver their services to the clients. They need to measure the performance of their processes and service levels over time.
The standard provides an independent approach to assess the performance at frequent intervals and find out inefficiencies or non-conformances in their services. As a result, you need to make changes or introduce new processes to remove the inefficiencies or non-conformances. When performance assessments and subsequent implementation of the changes take place in a continuous loop, it drives the improvement of your overall processes.
Prominence in the Industry
No doubt, achieving an ISO certification will help your IT organization to earn a reputation and gain prominence in the industry. It will directly influence how your suppliers, investors, and partners look at your business. It will not only enhance your potential to win new clients but also get contracts from big organizations.
Carrying an international certification will put your IT company in a competitive position and open doors to opportunities. It demonstrates the reliability and superior quality of your services. Big corporations and government organizations seek only certified IT service providers for their managed services. They feel confident to entrust a part of their operations and processes to a certified service provider. Thus, when your company has the certification, there are huge chances for you to pull off contracts with big public and private agencies.
Better Compliance with Legal Obligations
The ISO standard also takes care of the other legal and regulatory requirements that apply to IT organizations. It is formed by aligning with ITIL (Information Technology Infrastructure Library) practices as well as other IT security regulations including the PCI DSS (Payment Card Industry Data Security Standard). Therefore, the certification will ensure that your organization's ITSMS adheres to the mandatory IT governance laws and regulations.
By helping your organization to maintain regulatory compliance, the ITSMS standard prevents any risks of security breaches or data infringements. Thus, you can save your IT organization from the costs of consequential lawsuits, fines, or bad reputation.
Key Takeaway
Organizations in the IT sector very much rely on the ITSMS to continuously improve their processes and provide better quality managed services to clients. To put it simply, they need a robust ITSMS to stay ahead in the competitive IT industry.
These explicit and measurable benefits of the ISO 20000 certification clearly explain why you should get a certified ITSMS. Reforming your ITSMS with best practices of this globally recognized standard will help you to enhance your processes and provide services with agility. Realizing these benefits is important for the survival of an organization in today's fast-paced IT environment where clients' demands are growing and changing. Therefore, getting this certification must be a key priority for IT service providers, organizations and even, IT consultancies to make their presence noticeable in the industry.
If your organization offers any IT-related services or is a crucial part of the global IT industry, our team of dedicated ISO consultants at Compliancehelp Consulting LLC will help it to get certified. We will provide you with all types of assistance to implement the ITSMS, complying with the certification standard. To know more about our expertise or get our consultation services, feel free to contact us!