Why ISO Standards are Essential for the Chemical Industries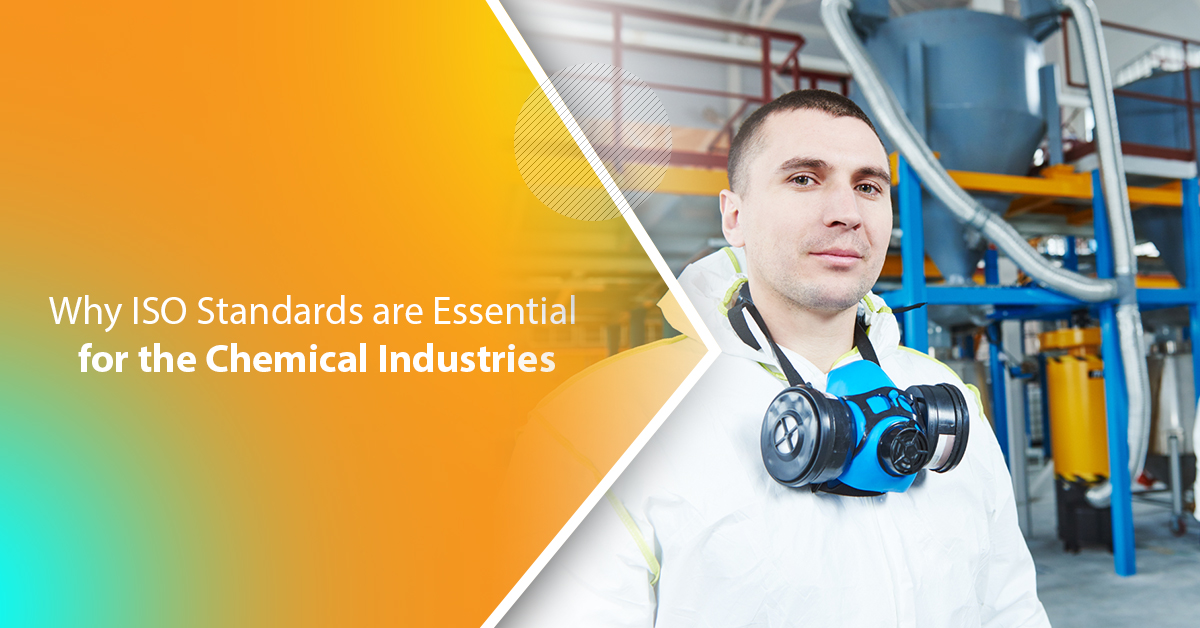 The chemical industry is a major source of vast types of toxic wastes, chemical fibers, harmful solvents, contaminated water, and lethal gases. Even the processes that are used by chemical manufacturers are hazardous, reactive or corrosive. They pose a substantial threat to the health of workers who are involved in the processes. No doubt, the chemical industry is regulated by numerous rules and laws to save humans, the environment, as well as companies from the associated risks. This implies the importance of the ISO standards for chemical industries. In this blog, we put further emphasis on the importance of certifications for chemical manufacturing businesses. If you own such a business, this blog can help you understand why achieving them must be a priority for you by any means.
Expected Challenges of the Chemical Industry that Must be Addressed
The chemical manufacturing companies rely on the major natural resources, starting from water, oil, mineral reserves, fuels and natural gas. These were either used in critical processes or are subjected to complex reactions to produce the end products. The common products of the industry are petrochemicals, agrochemicals (pesticides, insecticides), rubber, polymers, plastic, paints, fragrances or cosmetics, and many more. While all these products are used by general consumers for innumerable purposes, the manufacturers need to make sure to use the raw materials in the safest way so that the consumption of the end products does not harm the health of the consumers.
Therefore, there are many aspects that your chemical manufacturing company needs to look at to ensure that neither its operations nor its products have an impact on the customers, environment, and the community.
Key challenges faced by the chemical industry
• Reducing damage to the environment
• Reducing the use of energy sources
• Reducing the risks to public health and safety
• Reducing impacts during transportation
• Ensuring better supplier practices
• Ensuring a safer work environment
Certifications with the quality, environmental, work safety, and other relevant standards help the chemical production companies to overcome these challenges by implementing comprehensive management systems. The next section will help you understand how.
Most Relevant ISO Standards for the Chemical Industries
International regulatory standards will be helpful for your chemical manufacturing company in indomitable ways.
ISO 9001: This international standard for quality sets the framework and regulations for developing a strong Quality Management System (QMS). The QMS helps in introducing practices and controls that make the process effective which in turn assures the quality of final products. Therefore, achieving it will ensure that your chemical business has a dedicated approach to quality and that your products are outstanding quality-wise.
ISO 14001: This is the acclaimed standard for environmental safety, which defines the framework for establishing a practical Environmental Management System (EMS). With an EMS, the companies would be able to assess, prevent, reduce, or eliminate the harmful effects of their chemical processing activities on the environment. The standard will also help your company to meet environmental legal compliance and avoid fines, penalties, reputational damage, or public litigations.
ISO 45001: Your company must get certified with this standard to ensure all the valuable workers immersed in the harsh or complex chemical manufacturing process are safe from health hazards and risks. This standard lays down the guidelines for establishing a coherent OHSMS (Occupational Health and Safety Management System) which promotes strict safety practices for workers and measures to assure a hygienic work environment.
ISO 27001: As a chemical products manufacturer, you need to keep a lot of information related to your products' formula, manufacturing processes, raw material sources, etc. secret to ensure copyrights of your products. Also, many chemical firms are vulnerable to the risks like vandalism, thefts or fire to cause chaos and violence in a region. Therefore, this standard for information security management is an essential requirement too! It helps companies to have a strong Information Security Management System (ISMS) in place to prevent privacy breaches and mishaps.
Why Does Your Chemical Company Need to Achieve ISO Standards?
The definition and purpose of each standard explain why investing in certifications must be a part of your business strategy. However, we mention the benefits explicitly for you.
Cost savings: Having the quality and environmental certifications means you can execute your manufacturing operations quite efficiently, which leads to cost-savings. The costs saved can be invested in other aspects of your business to promote growth.
Better quality: Of course, the implementation of a certified QMS results in best practices and quality checks that remove risks in the products and assure the safety of consumers.
Improved stakeholder relationships: Any certifications will have a positive impact on the relationship of your company with the stakeholders. It proves your compliance with essential industry regulations, legal environmental obligations and commitment to delivering best-quality products. Thus, the stakeholders feel better about being part of your company that is responsible in every way and have prospects for growth.
Continual improvement: To maintain compliance with the standards, you need to perform audits regularly which will help you find processes or aspects in your company to improve.
Employee safety: With the implementation of the OHSMS, your employees feel safe at work and can give their maximum performance without any distress. It also helps you to comply with governmental work safety laws and regulations of international labor authorities, which prevent prosecutions or legal issues.
Final Word
By now, you have clearly understood the significance of ISO standards for chemical industries. In fact, they are the means for chemical manufacturing companies to survive and spread their business in the domestic as well as international markets. Not only does achieving these certifications improve their quality excellence and reliability but also boost their reputation. As a result, these certifications uplift their position as a credible supplier of chemical products which helps them to get more contracts and better sales opportunities.
If your business is into chemical manufacturing and you need to get it ISO certified, contact our team of expert consultants at Compliancehelp Consulting LLC. They have professional expertise and assist companies around the world to prepare for certifications. To know more or use our services, feel free to communicate with our team!