Different Types of ISO Standards Applicable for a Manufacturing Enterprise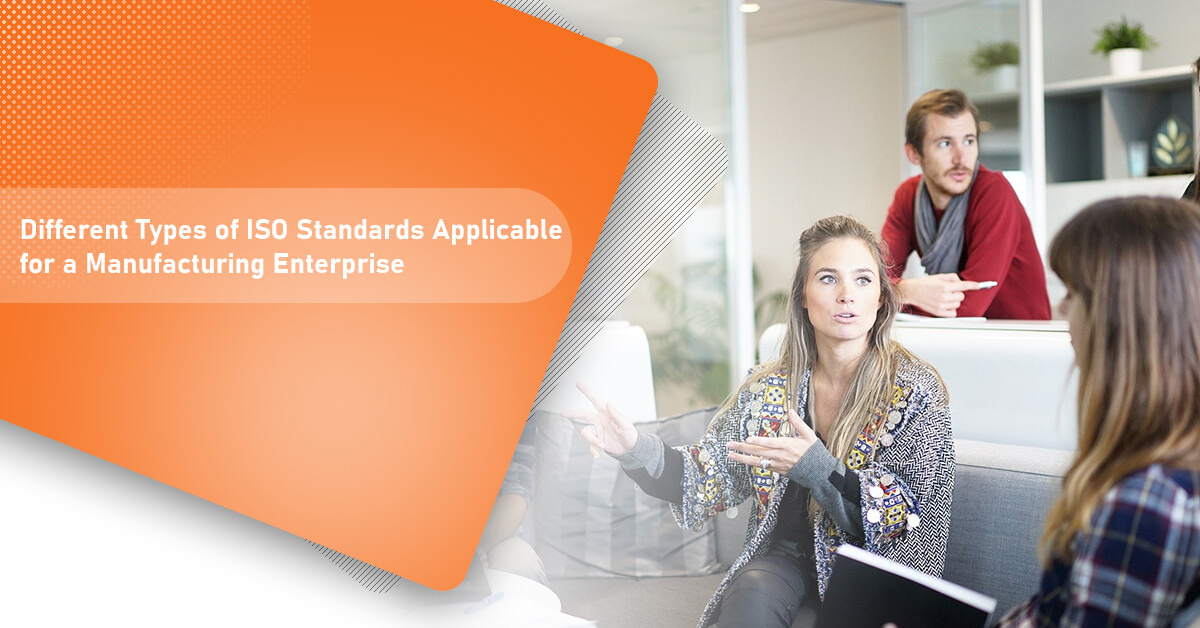 Manufacturing enterprises need to emphasize the overall quality of their products and ensure customer satisfaction. This can be quite complex, especially for manufacturers of vehicles or heavy goods because raw materials, assemblies, or components used for developing the end products are produced at different firms and different locations. Apart from these, manufacturers simultaneously need to take care of their workers' safety and ensure environmental protection because a majority of engineering activities are physically intensive, resources intensive, and leave certain impacts on the environment. Owing to these complex challenges, manufacturing companies need to achieve different types of ISO standards to continually improve their products and ensure the reliability of the activities in the industry.
In other words, ISO certifications provide a competitive edge to the manufacturing enterprises in the local as well as global marketplace. No matter what the size of your manufacturing company, achieving one or more ISO standards can benefit you both internally and externally. Here we are going to discuss how. We are presenting the key ISO standards that manufacturing enterprises must consider.
4 Different Types of ISO Standards that are Beneficial for Your Manufacturing Enterprise
Together, as well as individually, these ISO standards can help your manufacturing organization to drive efficiency, grow, and keep up the expectations of the stakeholders. Find out how.
ISO 9001
Being the most recognized standard for a Quality Management System (QMS), ISO 9001 tops this list. It is the first ISO standard required by your manufacturing company to improve and maintain the quality of products. The standard defines the best practices and requirements for the QMS which have significant implications on the engineering operations. A standardized QMS firstly helps you to streamline your processes, assess and prevent risks, avoid errors, and drive operational efficiency throughout the manufacturing cycle.
Secondly, achieving the ISO 9001 certification demonstrates your company's firm commitment to provide superior-quality products to the customers. As a result, it raises the potential of sales for your company. Existing customers who are satisfied with your customers can recommend your company confidently to others because of your consistent assurance of quality. ISO 9001 thus makes it easy for your company to attract customers and increase the scope for revenue and sales growth.
ISO 14001
This standard is intended to make organizations accountable for their environmental impacts and implement regulatory practices to control them. Achieving this standard helps you to establish definite environmental policies and a robust Environmental Management System (EMS). As mentioned before, engineering activities involve large amount of resources including fuel and other energy sources, electricity, and water. They also produce wastes and emit greenhouse gases which have an impact on the natural resources or environment.
Implementing an ISO 14001 environmental management standard is the best measure to take to cover all of your environmental challenges. From waste reduction and optimal resource allocation, to carbon footprint reduction and future sustainability, an EMS helps to ensure all.
Achieving this environmental standard is also crucial for a manufacturing enterprise because it shows their proactive efforts towards enhancing Corporate Social Responsibility (CSR). It places them in a better position in the industry supply chain. Other organizations are likely to partner with or buy from the enterprise when they see that they comply with major environmental regulations.
ISO 45001
This is the standard aimed at assuring Occupational Health and Safety (OHS) for organizations. This ISO standard is also a must-have for your manufacturing enterprise to ensure that every employee is safe while they are at work. On-the-job injuries and workplace hazards due to machinery failures, toxic materials contamination, leakages, etc. are most common in manufacturing units. Other long-term risks to the health of the manufacturing workers include hearing difficulties, breathing problems, skin diseases, etc.
To provide protection to the workers amidst such risky work environments, you need an effective OHS management system based on ISO 45001 requirements. Implementation of a regulatory OHS management system helps you to establish strong policies and enforce actionable measures for the workers. Structured OHS management requires you to first determine proper objectives and methods for risk assessment. Based on both of them, you can initiate preventive and corrective actions that can lead to the minimization of workplace risks.
The benefits of implementing the ISO 45001 standard are widespread. Apart from increasing employee satisfaction and boosting their performance, it also reduces downtime and productivity losses.
ISO 55001
This is the internationally-recognized standard that regulates the Asset Management System (AMS). Every manufacturing enterprise has a vast number of assets to manage that help them in their day-to-day activities. These assets can be tangible ones such as plants, machinery, vehicles, equipment and buildings, or can be intangible ones such as intellectual property, finances, and brand image. Achieving The ISO 55001 certification is important for your enterprise to manage the vital business assets throughout their lifetime, starting from purchase, use, and dismissal.
The need for a standardized AMS is felt because risks to the assets (such as degradation, breakdown, destruction, thefts) are inevitable, because of which costs of ownership of the assets raise significantly. The AMS helps you to upgrade, replace, and overhaul the assets by continuously monitoring them and assessing the risks. When assets are better managed, their active life increases which leads to more value creation in your business. Effective asset management also has a great positive impact on the financial performance and resilience of your organization.
An ISO 55001 based AMS can help your manufacturing business in several other ways. It restores the confidence of your existing investors, shareholders, insurers and creditors. Naturally, your business gets more potential opportunities for investments from other reputed/big companies.
Key Takeaway
While these different types of ISO standards are a necessity for manufacturing enterprises, there are other ISO standards that need to be mentioned: ISO 27001 which assures information security, ISO 31000 which define practices for enterprise risk management, and ISO 50001 which reinforces best practices for energy efficiency, are some worth mentioning.
Achieving ISO certifications can provide a competitive advantage to your manufacturing enterprises. As a result, entering new markets or getting global alliances becomes much easier. Each of these standards being known as international regulations, also represent your enterprise's credibility and helps you to sustain healthy relationships with customers, partners, and other stakeholders.
If you own a manufacturing company and still haven't been accredited with these ISO standards, it is high time now. At Compliancehelp Consulting LLC, we are a team of ISO consultants who can guide you on the journey to any of these certifications. Feel free to contact us for a quote!